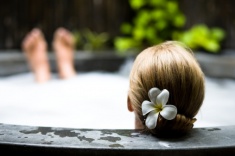 Tadlea Senses of Spa Oriental Senses
The secrets of the South Chinese ocean that will harmonize your body and mind.
•White, black and green tea: detoxifying and draining
•Ginger, drainingand slimming
•Sesame, nourishingand relaxing
•Lotus , symbolof purity
Oriental Teas Exfoliating Body Scrub
This delicious scrub with fine sea crystals removes dead skin cells and impurities , stimulates microcirculation and makes the skin more receptive to the active ingredients in the following treatment.
Oriental Lotus Massage Oil
This massage oil with the exotic scent of the Indian lotus flower inspires the spirit , refreshes the body and stimulates the senses. It contains almond oil with a very high amount of essential fatty acids and vitamin E, which supports the natural hydration of the skin , together with SheaButter.
Oriental TeasPowder Body Pack
This body pack combines the anti -oxidant properties of three various tea kinds and the remineralizingaction of algae. It has a detoxifying , anti- radical activity and prevents ageing of the skin.