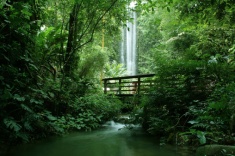 Tadlea Senses of Spa Amazone Senses
According to a story of the Mayans the Cacao tree grows in Paradise. The CocaoTree contains many potent substances that have a positive influence on body and mind and our skin . Cocoa is a rich source of antioxidants, magnesium and "feel good chemicals " . The aroma of cocoa is  linked with the idea of ​​chocolate , a thrill that you can "taste" without the accompanying calories of chocolate .
•Cocoa : stimulating, source of minerals
Amazon Choco Massage Oil
Experience inner peace and harmony of the rainforest. This massage oil with the scent of chocolate regenerates the epidermis and captivates your senses. It initiates a deep relaxation for body and mind
Amazone Choco Powder Body Pack
This body pack with a delicate , pleasant aroma of chocolate envelops the body in a cloud of chocolate and stimulates the production of endorphins , the hormone for happiness.