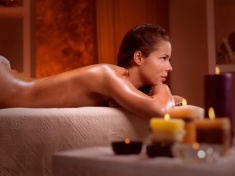 Tadlea Senses of Spa Polynesian
The Polynesian islands in the Pacific ocean are known for their white sandy beaches, light blue sea and their traditional beauty rituals. These legendary rituals allow you to fully relax and revitalize the body.
•Coconut : nutrient and energy source
•Marine Salt Crystals
•Noni extract, "magic Polynesian plant"
Polynesian Cocos Exfoliating Body Scrub
This delicious scrub with fine sea crystals removes dead skin cells and impurities and stimulates microcirculation . It contains Noni extract , a fruit of a small tropical tree from Australia , which is used as a medical plant that prevents ageing of skin , joint pain and inflammation.
Polynesian Cocos Massage Oil
This massage oil with the exotic fragrance of Coconut oil contains , among others , over exceptional nutritional properties to hydrate the epidermis and regenerate.
Polynesian Cocos Powder Body Pack
Thisbody pack witha delicate , pleasantaroma is a regenerating, moisturizingand relaxing forthemuscles. The coconutpulp containslipidsand mineralssuchas Potassium, Iron , Magnesium, Phosphorus, Copperand zinc, whichare essentialfortheproper functioningof theskin cells.